Sound System Packages - Complete Karaoke Hire Kit
Book any of our sound system packages, and get 10% off the price of any lighting equipment you hire!!
Karaoke Package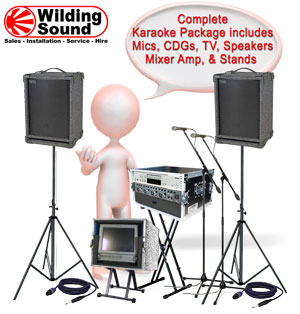 This popular package is suitable for professional and domestic use. It features a flightcased 14" colour monitor, a further flight case housing the Denon CDG player, the mixer amplifier, and a useful draw. This holds the request slips, and the all important track listings booklets.
Also included is a pair of Deltec SX2 225W 1x12"+HF Speakers, on tripod stands. 2 Mics, Shure SM58s, are included, along with mic stands.
The supplied CDg discs cover pretty much all popular karaoke tracks from Elvis to the Spice Girls, check out the track listings below!
Colour TV Monitor & Stand
Denon CDG Player
2 Shure Microphones With Stands
Carlsbro 120 W Mixer Amp With Reverb
A Pair of 225W Speakers With Stands
Over 450 Popular tracks Included
Order Code - Karaoke Package
Price: £ 99 inc VAT
Refundable Deposit: £275
Wiring Guide - Coming Soon
Book any of our sound system packages, and get 10% off the price of any lighting equipment you hire!!
ColorStrip Minis
The ColorStrips replace our autolights, but do so much more. They can be used like an autolight, as a flashing traffic light effect, with these lights auto synching to sound from there built in microphone. Multiple units data link to each other for a co-ordinated lightshow.

They can also be used as uplighters, to colour your walls with bright vibrant light. This can be a slow fade between different colours, or can be pre set to any one colour. Becuse of thier low power consumption, up to 15 can be safely connected to one 13 Amp plug top, making power distribution a breeze.

A pair of these ColorStrips, including 5m Mains Power lead, 10m Data link lead, 10m Power link lead, flightcase and programming instructions cheat sheet hire for £39 inc VAT per day.
2 x Colorstrip Mini Units
10m DMX Link Lead
Flight Cased
1 x 5m Power Lead
10m IEC Power Link Lead
Order Code - ColorStrips (x2)
Price: £39 inc VAT
Refundable Deposit: £80
Wiring Guide - Coming Soon
Impossibled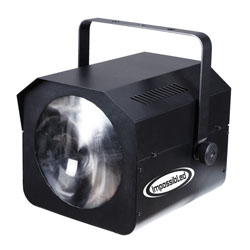 We have recently added a number of Acme ImpossibLED to our hire fleet, after succesfully selling a huge number to our customers to rave reviews. The are very easy to use, having a built in microphone to react to sound, and multiple units can be linked together using a dmx cable.
These units are some of the first LED units that are bright enough to be seen in smoke, rather than just projected onto a surface. Given there low energy requirements, and LED's long life, they are also considerably greener than older Halogen lamps. They are also safer, as they are considerably lighter than equivalent units, and generate very little heat. This lack of heat means no fans, so are quieter too!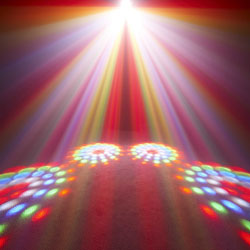 1 x Impossibled Unit
1 x Tripod Stand
1 x 5m Power Lead
1 x Spigot
Order Code - Impossibled
Price: £35 inc VAT
Refundable Deposit: £80
Wiring Guide - Coming Soon
LED Disco Package 1
This package includes both an Impossibled, on a tripod stand, and two ColorStrip Minis.

The package includes all leads required. All the lights respond to sound, from built in Microphones.

By ordering them together as one package, you save £15!!
1 x Impossibled Unit
2 x Colorstrip Mini Units
1 x Tripod Stand
10m DMX Link Lead
2 x 5m Power Lead
1 x Spigot
10m IEC Power Link Lead
Flight Cased
Order Code - LED Pack 1
Price: £59 inc VAT
Refundable Deposit: £150
Wiring Guide - Coming Soon